Active Fire Map and Fire Radiative Power
This data consists of a series of operational products based on satellite data feeds – most focused on the location and time of landscape fires, their Fire Radiative Power (in MWatts), and the rate at which fuel (vegetation and/or organic soil) is being consumed and that smoke is being released.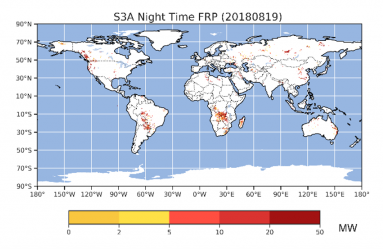 Quick Start Guide (coming soon)
Product User Guide
(coming soon)
---
Summary Specification:
Approximately 2km x 2km, EPSG:4326
Obtaining the data:
The data is also available from:
https://wildfire.geog.kcl.ac.uk/products-and-data/
Data is available on CEDA (https://www.ceda.ac.uk/):
http://data.ceda.ac.uk/neodc/seviri_frp/data/
Citation(s):
Coming soon.

License(s):
Coming soon.